In order to bid successfully at auction, you need to feel confident that the necessary funds will be available to you when you need them. Our bespoke auction product can be available in a matter of days, which means no missed opportunities at auction or stressful times waiting for funds to clear.
70% of 180 day or 90% of PP
*Larger loans available on a case by case basis. Refer for more details.
*90% of purchase price is available on residential and semi-commercial assets subject to that sum being < 70% LTV

Talk to us at Black & White Bridging for a no-nonsense approach to lending, when we say truly transparent lending, we mean it. We are a friendly team of experts ready to help you get the job done with no grey areas, meaning no grey hairs either…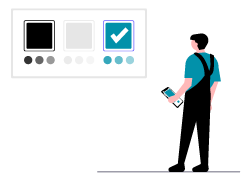 Send us a message and one of the team will be back with a rapid response regarding your deal.